Newscasts and more
Bob Hagen on WERE, Cleveland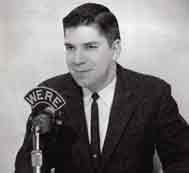 This is how Bob sounded at Cleveland's popular WERE Radio in 1962.

Bob Hagen on KYW, Cleveland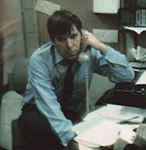 This is a 4 minute report on the outcome of a mysterious murder case from 1964.

Bob Hagen on WCFL, Chicago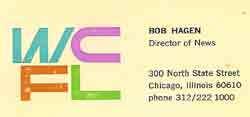 This high energy hourly newscast dates from 1970.
Bob Hagen on WCFL, Chicago
This report on an early system to automate aircraft landings is a good example of Bob's inventive use of natural sound in his reports.

Bob Hagen on WMCA, New York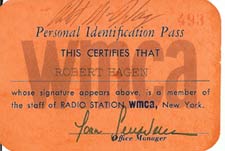 Bob took part in the launch of the talk format on WMCA in 1970. Here he is introduced by legendary talk host Bob Grant.

Bob finishing the 9am news on WNEW AM and FM in August, 1975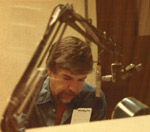 Bob Hagen's Last Show on 1010 WINS
11:40 a.m. February 26, 1999

Reporting
In addition to his anchoring at 1010 WINS, Bob did a substantial amount of street reporting. While some of this was breaking news, Bob also did a magnificent job with the routine stories that fill the time between major stories in the 24 hour news cycle. Here are some examples of Bob Hagen the reporter, at his finest.
---
1. Broadway on Broadway: Bob reports on the annual foray of Broadway shows and their stars into the streets of Times Square. Then 1010 WINS Executive Editor Steve Swenson told Bob that he pulled over before driving into the Holland Tunnel so he could hear the entire report.

2. Budget Cuts in City Parks: A dull subject made interesting by Bob's treatment.

3. Shooting in the Cypress Hills Houses: Bob pays a visit to a housing project in East New York - an enterprise fraught with peril as he explains in his report.

4. Bogus Watches Ground to Dust: A report on counterfeit designer watches of the type peddled on 5th Avenue.

5. Star Jones for the Prosecution: Before "The View", Star Jones was a prosecutor in Brooklyn. Here Bob talks with a rape victim in a case successfully prosecuted by Jones.

6. Rally for Pee Wee Herman: New Yorkers come out to defend the children's TV star caught with his pants down and Bob is there.

7. Multicultural Education: Bob looks at the arguments for and against multicultural education in city schools.